Wednesday, January 22, 2020 - Friday, January 24, 2020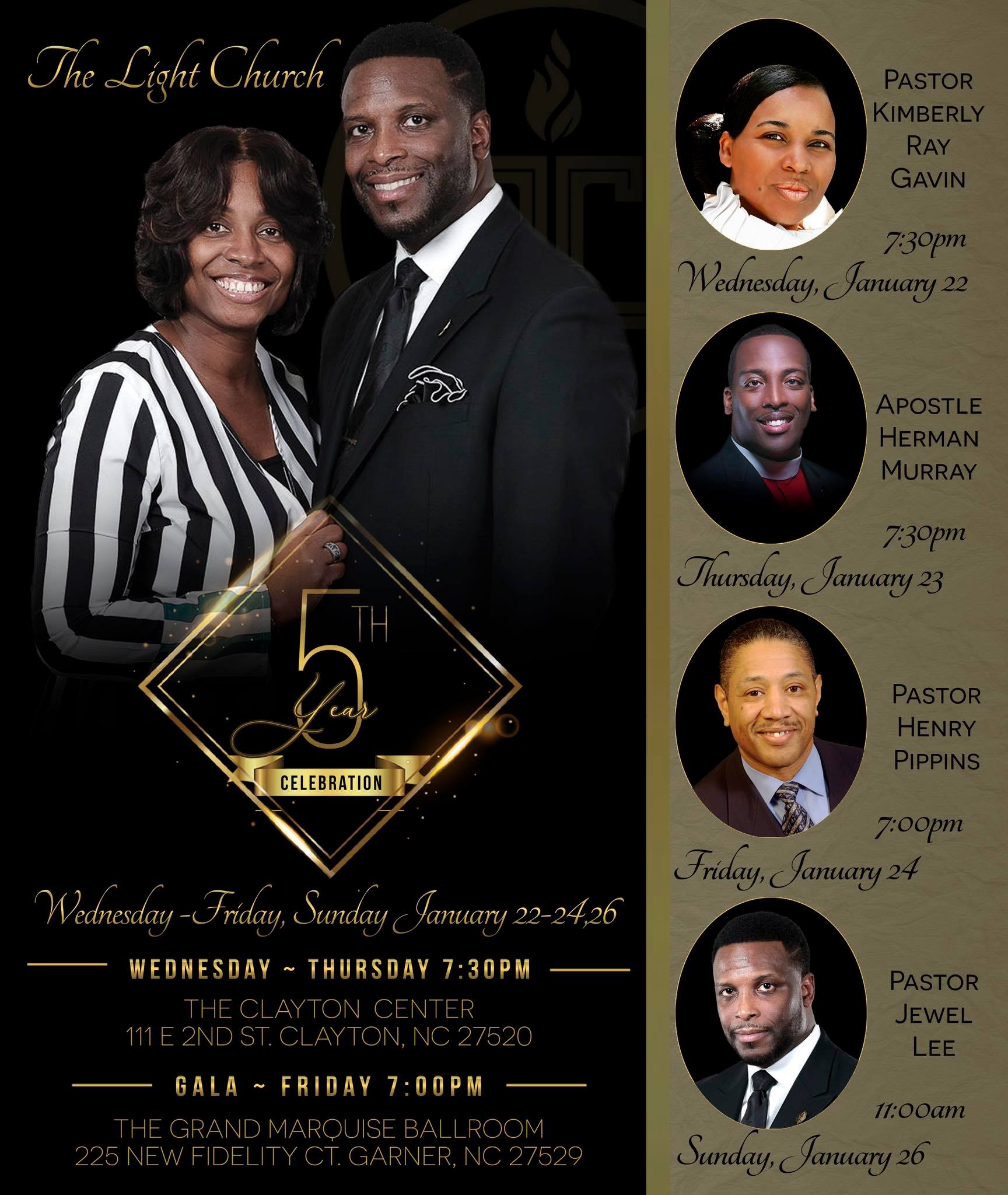 THE LIGHT CHURCH OF CLAYTON 5TH YEAR CELEBRATION
Clayton, NC – The Light Church of Clayton, cordially invites the community to join with us as we honor our rich history and celebrate 5 years of service unto the Lord in excellence. This exciting celebration will commence with two power-packed services. On Wednesday, January 22, 2020, Pastor Kimberley Ray of ARM Church on the Rock from Matteson, IL, is sure to deliver an empowering message of hope and deliverance. Then, on Thursday, January 23, 2020, we will have a spirit-filled service, with our guest speaker Apostle Herman Murray. Both services will begin at 7:30 pm nightly at the Clayton Center located at 111 E 2nd St, Clayton, NC 27520.
As the Light Church members bring to a climax their Quinquennial Year Celebration, a grand gala of worship and music is planned for 7 pm on Friday, January 24, 2020, at the Grand Marquise Ballroom located at 225 New Fidelity Ct, Garner, NC. Pastor Henry Pippins will be the guest speaker for the banquet.
The Light Church of Clayton is elated to commemorate this milestone under the integral leadership of Pastor Jewel and Lady Laneace Lee. We have been blessed with two great leaders who have shown unwavering dedication to the Lord and kingdom building in the pursuit of holiness!
######
The Light Church of Clayton is a 501c3 non-profit organization. For more information about our church visit our website at: www.thelightchurches.org